Cool Crusada®
20kg
Cool Crusada is a premium, fully fortified nutrition for sport horses in medium to heavy work that require sustained, cool energy

THE COOL CRUSADA ADVANTAGE
Fully Fortified, Complete & Balanced Muesli feed.
Probiotic produces healthy gut flora.
Nutrient Rich with a low 13.5% Starch level.
Beet Pulp for digestive health & to slow energy release.
Omega Rich Oils to strengthen immune system & reduce inflammation.
Bonafide®, featuring Quinaquanone®, a Bioavailable form of Vitamin K1 & K2, proven in trials to increase bone density.
Cooked and Rolled lupins and corn; faba beans, soybean meal, canola meal, beet pulp shreds, sunflower seeds, cereal and protein hulls, barley, Mitavite® vitamin and mineral premix (including heat stable vitamins and chelated mineral proteinates), canola oil (including Omega 3 and Omega 9 fatty acids), mill mix, salt, molasses, Live Yeast Saccharomyces Cerevisiae and Quinaquanone® (the active constituent of Bonafide®).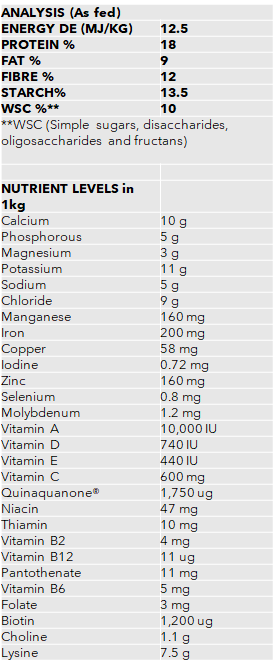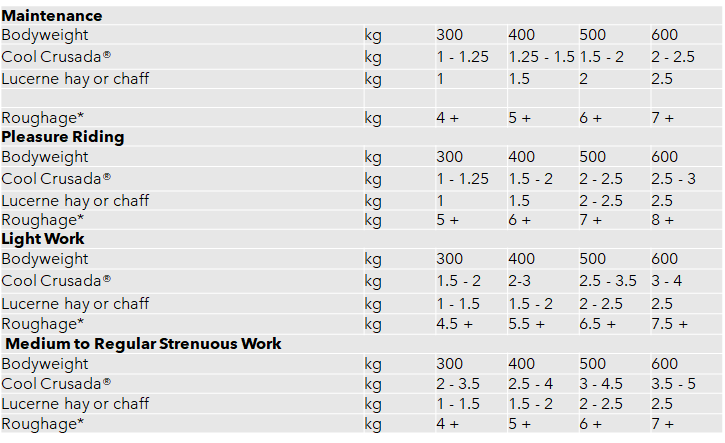 *Roughage (hay, chaff, grass hay, pasture, Beet Pulp etc) should be fed at 1-1.5% of bodyweight. Total daily feed (concentrate + roughage) should be 2-3% of bodyweight depending on age, workload, stage of pregnancy or lactation & climate. Feeding rates intended as a guide only. All variables should be taken into consideration.