Formula 3®
20kg
START YOUR ENGINES
Formula 3 is an oat free, muesli style, high energy complete feed, ideal for high performance horses prone to tying up.
THE FORMULA 3 ADVANTAGE
Extruded & Micronized Grains to maximise digestibility & nutrient utilisation.
High levels of Vitamin E support muscle function & recovery.
Probiotics produce healthy gut flora.
Omega Rich Oils strengthen immune system & help reduce inflammation.
Vitamin A to support immune function, gene action & red blood cell production.
Bonafide®, featuring Quinaquanone®, a Bioavailable form of Vitamin K1 & K2, proven in trials to increase bone density.
High Biotin levels for strong hooves & healthy skin.
Cooked and Rolled barley and lupins; faba beans, corn, canola meal, canola oil (including omega 3 and omega 9 fatty acids), Molafos Gold®, Mitavite® vitamin and mineral premix (including heat stable vitamins and chelated mineral proteinates), salt, molasses, Quinaquanone® (the active constituent of Bonafide®), chromium yeast culture and natural enzymes.
ANALYSIS (as fed)
Energy DE (MJ/KG)
14
PROTEIN %
15
FAT %
10
FIBRE %
8
STARCH %
30




NUTRIENT LEVELS in 1kg
Lysine
6.2 g
Calcium
7 g
Phosphorous
5 g
Magnesium
6 g
Potassium
12 g
Sodium
7 g
Chloride
15 g
Manganese
100 mg
Iron
110 mg
Copper
58 mg
Iodine
1 mg
Zinc
129 mg
Selenium
0.8 mg
Molybdenum
1 mg
Vitamin A
13,000 IU
Vitamin D
1,000 IU
Vitamin E
500 IU
Vitamin C
750 mg
Quinaquanone®
1,750 ug
Niacin
33 mg
Thiamine
13 mg
Vitamin B2
6 mg
Pantothenate
17 mg
Vitamin B6
5 mg
Vitamin B12
22 ug
Folate
5 mg
Biotin
1,200 ug
Choline
1.2 g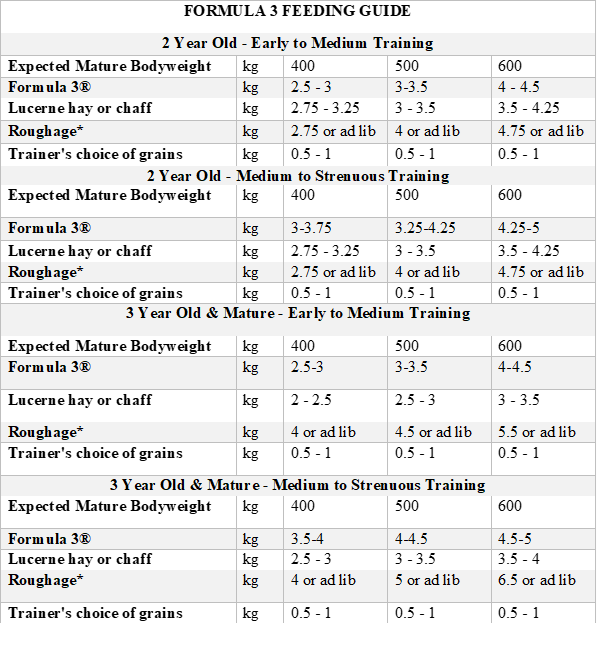 *Roughage (hay, chaff, grass hay, pasture, Beet Pulp etc) should be fed at 1-1.5% of bodyweight. Total daily feed (concentrate + roughage) should be 2-3% of bodyweight depending on age, workload, stage of pregnancy or lactation & climate. Feeding rates intended as a guide only. All variables should be taken into consideration.