Turbo®
20kg
TURBO CHARGED!
Turbo is an oat based muesli and steam extruded blend to provide fast release energy whilst improving digestibility and nutrient utilisation.
THE TURBO ADVANTAGE
Cereal Grains including Barley, Oats and Corn produce high energy levels.
Quality, Premium graded Whole Oats Steam Extruded Corn & Roasted and Rolled Barley improves digestibility & maximises nutrient utilisation.
Elevated Lysine & Methionine levels support protein synthesis.
Omega Fatty Acids strengthen immune system and help reduce inflammation.
Cereal grains including roasted and rolled barley, faba beans, sunflower seeds, cleaned and graded oats, turbo gold (pressure cooked and steam extruded maize), legumes (including roasted and rolled lupins), vegetable protein, vegetable oils, (including Omega 3 and omega 9), lysine, methionine, molasses, salts, heat stable vitamins and chelated mineral proteinates, chromium yeast culture and natural enzymes.
ANALYSIS (as fed)
ENERGY DE (MJ/KG)
15
PROTEIN %
13
OIL %
10
FIBRE %
8
NUTRIENT LEVELS in 1kg
Calcium
7 g
Phosphorous
4 g
Magnesium
3 g
Potassium
11 g
Sodium
7 g
Chloride
15 g
Manganese
132 mg
Iron
178 mg
Copper
57 mg
Iodine
1.04 mg
Zinc
129 mg
Selenium
0.3 mg
Molybdenum
0.9 mg
Vitamin A
6,000 IU
Vitamin D
1,000 IU
Vitamin E
270 IU
Vitamin C
750 mg
Niacin
72 mg
Thiamine
18 mg
Vitamin B2
7 mg
Pantothenate
23 mg
Vitamin B6
5 mg
Vitamin B12
30 ug
Folate
6 mg
Biotin
686 ug
Choline
1g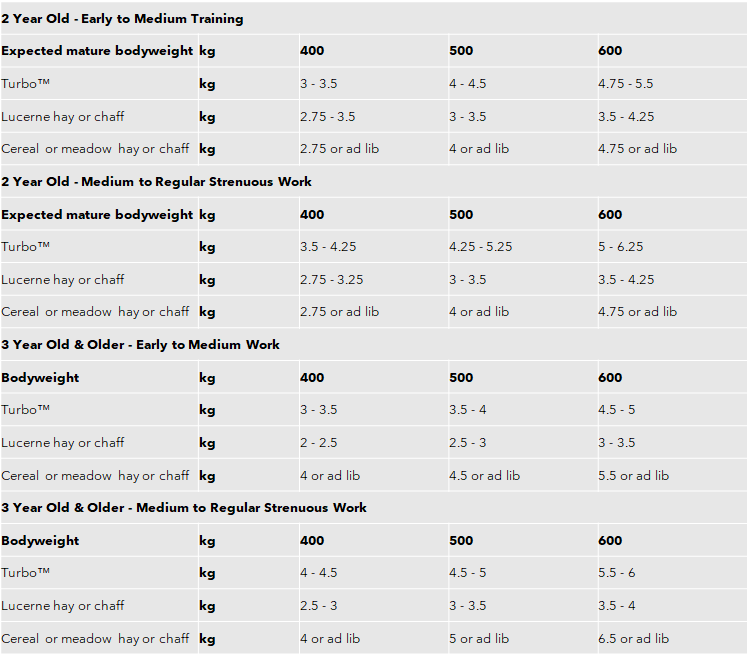 *Roughage (hay, chaff, grass hay, pasture, Beet Pulp etc) should be fed at 1-1.5% of bodyweight. Total daily feed (concentrate + roughage) should be 2-3% of bodyweight depending on age, workload, stage of pregnancy or lactation & climate. Feeding rates intended as a guide only. All variables should be taken into consideration.